Polla Plus - About our company
We have been in operation since 1989.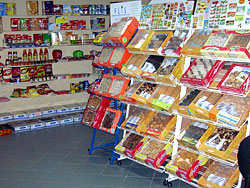 From the beginning we have been specializing only in sales and distribution of sweets from the most important Polish and foreign producers. Professionalism, understanding the market needs and a wide range of offers have pushed us to the forefront of sweet distributors on the market. Proof lies in the many awards and nominations that we have accumulated as well as the distinction that we are given by our suppliers.
We are the main distributor of leading sweet producers, such as: Cadbury Wedel, Solidarność, Odra Brzeg, Wawel, Skawa, Ferrero, Bahlsen Sweet, Lorenz Bahlsen, Fazer, Pszczółka, Master Foods Polska, Mieszko, Terravita, San, Divella, Fridel, Panda, Kraft, Stollwerck, Vobro, Storck, Hildebrand, Baron, Łuksza, Cukry Nyskie and many others. In our rich offer we have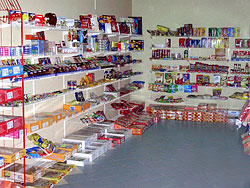 constant access to sales of more then 4 thousand different kinds of assortments.
We are in co-operation with more than one thousand clients including the largest store chains. We operate in the regions of :Mazowieckie, Lubelski, Świętokrzyskie, Łódzkie. We have a staff of more than 40 employees, and our combined storage capacity stretches out to more then 2000 m2. PollaPlus employ highly qualified professionals. Own transport system and efficient logistics ensure fast delivery to any location indicated by the buyer. The Company aims at widely understood development and maximum customer satisfaction.

Orders are filled within a 24 hour time period, in emergency situations within 6 hours in the area of Kraków.


We can assure an order completion rate of 98%.


We support sales through promotional activities organized and co-organized by producers as well as those.


Since we buy direct from producers we are able to assist our customers in obtaining replacements or price reductions of products through agents.
Our agents will help in arranging the proper product mix which will generate the highest income for you.
We will be very pleased if our offers meet your acceptance and you will join our circle of clients. We will strive not to disappoint you or lose the trust you have put in us.
Therefore, we would like to invite you to mutually beneficial cooperation. I am sure that soon you will hear more about our Company.
PollaPlus Joanna Stępień, Leszek Stępień Sp. J.
ul. Odrodzenia 29
26-600 Radom
Poland
Fax: +48 48 365-61-91
Contact person
for english/deutsche language:
Izabella Smolińska
Marketing
mobil phone: +48 0603-589-623
e-mail: pollaplus@pollaplus.pl

Open Monday to Friday from 7 am to 6 pm